Captair Flex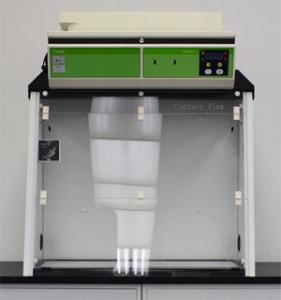 Make sure you take a look at our line of Captair Flex fume hoods when you're searching for a ductless fume hood model. Designed to protect the users, the environment, and your budget; each of the used Captair Flex laboratory fume hoods comes complete with fume hood flexibility and chemical extraction. Did we mention that they're designed to protect users during applications that emit harmful vapors/chemical particles?
If you're thinking about choosing a Captair Flex laboratory fume hood; you're looking to choose the most efficient, reliable furniture for your laboratory. Don't forget about their unique organics, in-organics, acids and bases, as well as powder weighing station as well with out the need to switch hoods or filters. Here at Nation Laboratory Sales, we understand that purchasing a used laboratory fume hood can be a difficult process if you're unsure what you're searching for. Give us a call and let our team of experts help find you the right fume hood for whatever university, biotech, or laboratory you may need furniture for.
---
Fill out our form below to contact National Laboratory Sales today and let us know if you're interested in receiving more information about any of our used Captair Flex laboratory fume hoods and furniture today!