Hemco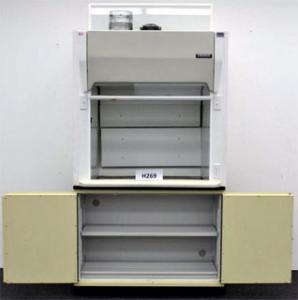 Look no further than our Hemco laboratory fume hoods here at National Laboratory Sales when you're in need of furniture to refurnish or upgrade your existing laboratory. Each fume hood by Hemco is designed top of the line steel grade with a unique vertical sliding sash and Epoxy Resin counter top to ensure the highest quality in furniture. Did we mention they're also complete with flammable base cabinets? Whether you're in need of a light duty enclosure for that unwanted vapors, a refined fume hood system to avoid those toxic fumes, or simply a unique ventilation system for unique applications; National Laboratory Sales can help direct you in the right direction.
Don't let buying laboratory furniture be a daunting process. We like to believe that not all laboratory fume hoods hoods are alike, let our experts at National Laboratory Sales provide you with some info on the top Hemco laboratory fume hoods that are available. Outstanding service that comes from National laboratory sales along with a guarantee promise you'll love your used Hemco laboratory fume hoods!
---
Fill out our form below to contact National Laboratory Sales today and let us know if you're interested in receiving more information about any of our used Hemco laboratory fume hoods and furniture today!